Unlocking the Hidden Potential: People with Disabilities in Accounting and Their Outstanding Competence
Today, people with physical and medical impairments work at the forefront of different fields. The financial sector has been the most prominent to support this advancement. However, accounting stands out as being one of the most welcoming professions to disabled people.
The number of disabled accountants is growing rapidly in the industry. But how can a disabled individual work in accounting? The short answer is yes. How to make a workplace suitable for disabled people?
Let's look at this subject in more detail!
The Supportive Company Policies for Disabled People
Many countries have expressed concerns regarding their work field's diversity policies. For instance, the UK's equality legislation strictly acts against businesses discriminating against disabled individuals.
Another example is the ADA (Americans with Disability Act), which restricts discrimination against disabled employees. The ADA has opened employment opportunities for people with disabilities in various sectors, including the State, local government, transportation, telecommunications, commercial sites, and public accommodations.
Similarly, many other countries have redesigned their company policies. They are now more inclusive to disabled people. However, individuals are required to disclose their disability to the company. This way, the HR managers can take necessary precautions and provide facilities to such people.
Why Accounting is a Fitting Profession for Disabled People?
Accounting is one of the most suitable professions for disabled people. Why is that? Let's have a look:
Lack of Movement
Generally, physically disabled people find frequent movement challenging. However, an accounting job doesn't require it. The profession only needs an individual good at examining and keeping records. Thus, it all comes down to one's finance and math skills.
Generally, accounting jobs don't need frequent movements. All you need is to be behind a desk and handle relevant tasks. Plus, companies provide additional facilities to disabled people to minimize their challenges.
Tolerant Company Policies
The COVID-19 Pandemic has seen a rise in work-from-home jobs. According to a report by GoRemotely, over 37% of accounting professionals are working remotely in the US in 2021. And that number has only increased ever since.
These tolerant company policies also open doors for disabled people. You can minimize your workload by handling accounting tasks from home. Since the job's nature doesn't require much movement, it can be excellent for physically impaired individuals.
Easier Job Requirements
An accounting job doesn't demand much from an individual. All you will need is a bachelor's degree and a good grip on math and finance. Working as an intern in smaller companies to gain experience can be the first step toward a good employment opportunity.
These smaller businesses welcome disabled individuals as they plan to expand the workforce. Hence, many internships and training opportunities in small-to-medium companies are available. After getting some experience, these beginners can apply for open accounting positions in large-scale businesses.
Technological Support
Most old-fashioned accounting work has now become obsolete. Companies now aim to increase their efficiency by automating tasks. As a result, most departments in a business have comparatively less workload today than a decade ago.
The utilization of digital audit and accounting tools can help make the work easier and more efficient. You might be surprised to know that about 94% of businesses have adopted cloud accounting.
This factor is a sign of inclusivity, making the workplace more accessible for disabled individuals.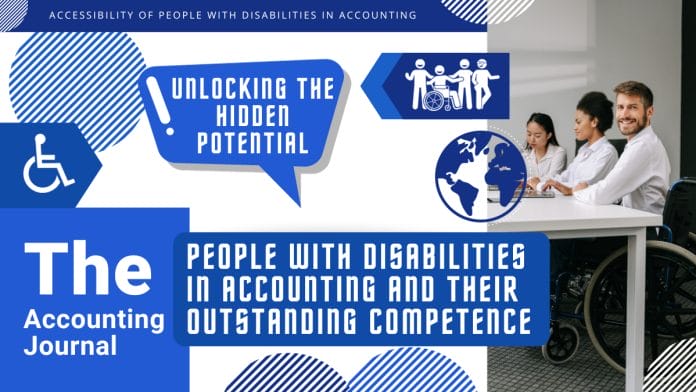 How Tools & Technology in Accounting Can Help People with Disabilities
According to a study, 29% of the entire accounting industry uses automation tools. Moreover, 56% of accountants claim technology has improved their productivity. Many technologies and modern solutions can also help disabled people in this industry. How is that? Let's have a look.
Let's say you are an office-working accountant or an HR manager supervising disabled accountants. You can use cognitive assistive technologies, like graphic organizers and symbol-based keyboards, to help impaired individuals.
Some other tools you can use as a disabled accountant are voice recognition apps, screen readers, etc. People with visual impairment can rely on a screen enlargement application. Similarly, people with motor disabilities can use smart or accessible keyboards.
These simple hardware and software solutions can make accounting more accessible to people with disabilities. Company owners and HR administrators can also provide these cost-effective tools for disabled accountants to maximize efficiency and productivity.
The Impact of Disabled People in Accounting Jobs
As a reader, you might wonder if all these campaigns and diverse policies have an impact. It is essential to know that such steps have results in the long run. That said, here are some of the most positive implications for disabled people in the accounting profession.
The unemployment rate in the disabled community is significantly large. Providing these people with jobs they can easily handle, like accounting, can lead to minimizing this number. In 2021, the employment opportunities for people with disabilities were 19%, spiking to 21% in 2022.
Recent developments in accounting firms have shown companies that they can provide employment opportunities to disabled individuals. Like accounting, there are many other suitable job positions. That includes writing, computer operators, analysts, software developers, and customer service representatives.
Some of the largest firms in the accounting sector, like PwC, KPMG, and EY, have opened doors for people with disabilities. It conveys a message of inclusivity to smaller and medium-sized accounting firms, empowering them to take the same steps. That is why campaigns like The Valuable 500 have successfully promoted inclusivity in accounting.
How To Create a Welcoming Environment for People with Disabilities in Accounting
A company should take some steps to create an inclusive environment in its workforce. So, let's see what an organization should do and what it shouldn't do:
The Dos
Encourage new recruits to disclose their disability.
Monitor disabled people to provide them with essential facilities.
Provide your disabled accountants with a platform to share their experience.
Collect feedback to improve your workplace environment.
Create a company policy that promotes inclusivity and welcomes people with disabilities.
The Don'ts
Not having a representative to raise a voice for the disabled people within the firm.
Create a competitive and hostile environment between disabled and non-disabled workers.
Making poor HR policies that don't create an inclusive workplace.
FAQs
Q: How to ensure a fair recruitment process for disabled people in accounting?
The first step is to understand the disabled candidate's needs and their experience. It is best to create an HR team that makes inclusive work policies for the company. You can offer ease to people with disabilities by creating accessible online forms. Large firms go one step further by asking the disabled candidate how the recruitment process can be managed according to their condition and requirements.
Q: How to make accounting easier for people with disabilities?
You can make the accounting profession accessible for disabled individuals by integrating modern technologies, like the cloud, and relevant software solutions. If possible, provide a work-from-home opportunity to the disabled accountant. Otherwise, you can make practical arrangements in the office, like minimum movement, accessible desks, and allocated parking spots.
Q: What does it need for a disabled person to become an accountant?
Accounting is a profession that requires a strong grip on finance and math. It doesn't require traveling or movement, making it accessible and friendly for people with disabilities. You may need a bachelor's degree and some prior training to start working as a professional accountant in a medium-to-large firm.
Q: Do large firms recruit disabled people for accounting?
A: Absolutely! Many large firms have opportunities for disabled individuals and are known for having inclusive workplace policies. They have a candidate-friendly recruitment process combined with accessible work positions. Other companies hire disabled individuals in their accounting departments. Thus, you don't have to worry about finding a job position.
Final Thoughts
The world is progressing fast, opening opportunities for everyone. That has also benefitted disabled people to join different job positions. Since accounting is one of the most welcoming sectors, physically and mentally impaired people find it accessible. Moreover, it doesn't have strict requirements and eligibility criteria like many other industries.
Many big-name accounting and finance firms have further empowered people with disabilities. Today, small to medium firms are also following that path. As a result, you will see an even increased employment rate in the disability community in the coming years.
If you found this article helpful, please go to the rest of the website for more information about accounting software, and financial topics in International Accounting, Audit, Taxation, Financial Planning, Cloud Software, and Financial Technologies (Fintech).
Read this article in: English – Dutch – French – German – Spanish