Free Accounting Software: Here you will find the best way to start your business with a free accounting software while managing your finances easily and accurately.
There is always a beginning time when you start your dream business, and you are trying to succeed with limited resources. To be successful you need to be compliant, have your accounting and financial accurate and up to date, to be able to maintain a healthy cash flow, project and follow up with your budget, analyse, and stay on top of your expenses.
All these accounting and finance functions can increase your overheads and can take a lot from your time that should be dedicated to grow your business. A great accounting system could reduce your time considerably and increase your productivity on other more important aspects of your business.
When you look at the costs, you will see that usually an accounting package come with a cost. But luckily there are some options of free accounting software or freemium available on the market that can give you access to the core accounting functions you will need to start your venture. You might be or not familiar with the freemium or free accounting software. Even so, we will write below the main difference to give an insight into the options available and what you could choose.
| | | | |
| --- | --- | --- | --- |
| | | | |
| | Easy to set up cloud based free accounting system. | Not scalable and suitable only for small size businesses. | |
| | Odoo is highly customizable to meet the business various needs. | Lack of support and might need technical knowledge to install and maintain. | |
| | Easy to use cloud-based accounting software. | The software is free only for a limited number of transactions. | |
Free Accounting Software
Usually, a free accounting software is very limited and usually will provide you with the core functionalities for your accounting department. Sometimes you will need to have a couple of different software to cover all function within your accounting department as invoicing software, payroll software and so on.
A free accounting software might not charge you and could be just a teaser selling adverts of other more powerful paid solutions available on the market and that you might need as your business expand.
You need to consider that a free accounting software will be less user friendly, not so complex and in most of the cases performing only a standalone accounting function. You might need to get a couple of free accounting systems or rely on third parties, but still, if you have a limited low budget this is an option that can be taken in consideration to start up.
Freemium Accounting Software
Freemium accounting software if compared with the free accounting software are usually very complex, innovative, and up to date accounting software that are part of a complex system that can be customized and extended from a simple core accounting system of invoicing and double entry to more complex systems that can include the payroll function, inventory, automated tax and so on.
As your business grow and larger volumes of data needs to be processed the overheads of the accounting functions might grow up significantly and could be a weight on your budget and finance. To keep the costs low you will look to integrate and automate all these processes and complex innovative accounting software is all you need.
Furthermore, some of the accounting software we list below can be integrate with Enterprise Resource Planning (EPR), Customer Relationship Management (CRM) systems and much more, in a slimline and cost-efficient way.
Please read below about some of the best options of freemium or free accounting software that could be a great solution for your business to start up and keep up you updated with what you need as your business expands and more solution will be a required.
Most Popular Free Accounting Software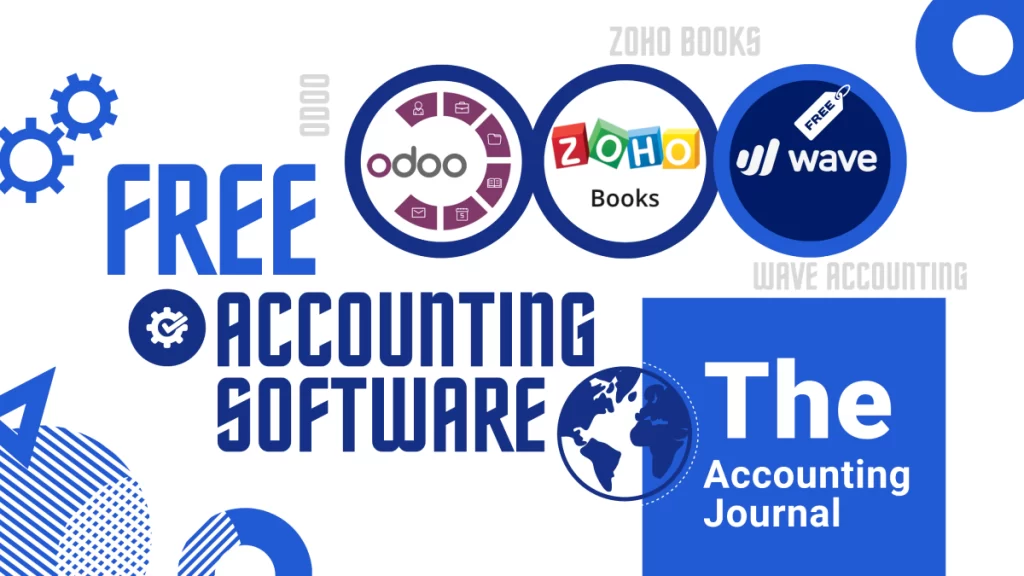 Odoo – Free Accounting Software
Odoo is a suite of open-source system developed in Belgium that is made up of a set of apps that cover all your company accounting and business functions from Accounting and Inventory to Sales or eCommerce. In other words, Odoo is not just an accounting software and is at the same time a business toll that can integrate various processes across your business operations.
The sweet thing is that Odoo Community edition of accounting module is free and could be a great choice for any start up who need to manage the basic accounting function at no cost. Furthermore, Odoo is offering with the free plan beside the core accounting function one of the business apps at your choice for free.
Taking Odoo as a whole system of accounting and business we can say that Odoo is a freemium solution from the business perspective if you want to make use more Odoo apps, and a free accounting software at the same time.
Odoo is already used by million users and is available on premises or based on subscription and ready to use (SaaS)
Wave Accounting
Wave is a Canadian based financial service software developer who start its's journey by launching a free accounting system suitable only for small size companies.
In the coming years Wave emerged in a more complex solution by adding more modules as Payroll, card processing, Optical Character Recognition (OCR) tools and so on.
The main benefit of Wave Accounting is that is a free accounting system that includes most features you need to run your accounting functions. On the other side Wave offer limited options when it comes to expansions of the software capabilities or integration with other business processes.
Wave offers for free unlimited use for some of the accounting functions where other freemium software providers could start to charge above a certain usage cap. Therefore, Wave can be a great solution for any start-up.
Zoho Books
Zoho is an Indian IT corporation with some of the offices in USA that develops software with a great expertise in development of cloud-based business tools having in portfolio more than 50 applications used by organisations in more than 150 countries.
Zoho Books is a smart accounting software very easy to set up and one of the best options for start-ups in terms of implementation and running costs. At the same time, Zoho comes with a lot of Apps covering most of the business processes and that can be easily integrated with the core accounting system keeping the margins at the lowest level as the business expands.
Zoho is offering an iOS and Android apps that will give you the freedom to manage your finances on the go, therefore being one of the best free accounting software options for any start-up or small size business.
Conclusion
We have listed some of the best freemium and free accounting software and some of the main features that could be a real deal when you start up your venture. At the same time there could be much more options on the market that can fit your needs or could be just one of the above all depends on your business type or your vision for success.
If you found this article helpful, please go to the rest of the website for more information about accounting software, and financial topics in International Accounting, Audit, Taxation, Financial Planning, Cloud Software, and Financial Technologies (Fintech).
Read this article in: English – Dutch – French – German – Spanish